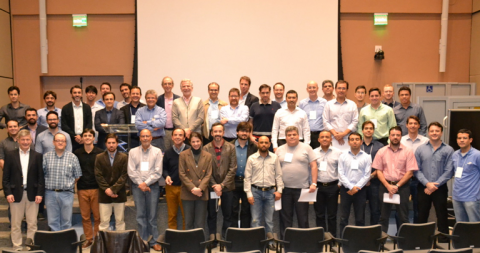 The WFITN has held its Neurovascular Anatomy Course in Sao Paolo, Brazil, from November 6 to November 10, 2016, at the invitation of Professor Jose Guilherme Caldas. The course has followed the Annual Meeting of the Brazilian Society of Neuroradiology , and has gathered 50 participants (the maximum of students allowed) from various South American and European countries (Brazil, Chile, Guatemala, Argentina, Sweden).  Most of the students came from neuroradiology, but neurologists, neurosurgeons and radiologists were also part of the audience.  All participated actively to the lectures and workshops given by 8 international teachers (Serge Bracard, Staffan Holmin, Philippe Mercier, Ronie Piske, Vitor Pereira, Georges Rodesch, Michael Soderman, Pedro Vilela). All fields of arterial and venous vascular anatomy of the head and neck regions as of the Central Nervous System  were covered. The course ended with a self evaluation of the students who were given multiple choice questions : at the end of the test, all correct answers were revealed in order to allow them to evaluate their  current level, and give the envy to continue their study of neurovascular anatomy.
The course was highly rated by all students who left positive and encouraging statements on evaluation forms, pointing to the interest and validity of the course.
The next WFITN neurovascular anatomy courses have been invited in India in 2017, USA in 2018, Japan in 2019. Invitations to host further sessions are welcome! If you are interested, please contact the Educational Committee of the WFITN!