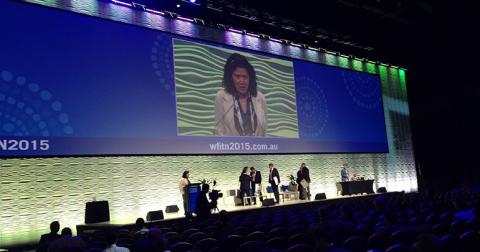 Dear colleagues and members of the WFITN.
My name is Sirintara Pongpech and I am privileged to be your new President of the WFITN. I work in Bangkok Thailand where I am the Head of the INR unit at the Ramathibodi Hospital at Mahidol University. I have been a member of the WFITN since 1997.
Together with the newly elected Executive Committee I hope to guide the WFITN towards an exciting future realizing there will be many opportunities but also challenges ahead.
During the past few years, Interventional Neuroradiology (INR) /Endovascular Neurosurgery(ENS) has significantly expanded its role and activities in many countries all over the world. We have seen the evolution of practitioners with different medical specialty backgrounds performing Neurointerventional procedures.
Under these circumstances it is pivotal that the WFITN continues to provide leadership and direction with respect to training and practice in INR/ENS.
Rapid evolution of the practice in INR in the past few years has resulted in a shift towards scientific collaboration between the continental, international and national INR/ENS societies in terms of their scientific meetings, educational course as well as fostering the opportunity of research collaborations.
Coordinated research pertaining the outcome of the treatment of neurovascular diseases is critical and to be encouraged as it will result in changes in practice and improved patient care as exemplified in the endovascular management of ruptured aneurysms (ISAT) trial and the recently published trials demonstrating efficacy of mechanical trhombectomy in acute stroke management. Participation and leadership by neuro-interventional practitioners in performing such research is critical.
Major advances in development of new tools have occurred in short succession highlighting the need for close collaboration between our profession and Industry, requiring a careful balance between professional collaboration and ethical neutrality.
The society cannot function without its members and therefore the most important part of our society is all of you. Going forwards we encourage you to participate in the many activities that are part of the WFITN such as its annual gathering in Val d'Isere and its biannual scientific meetings.  Educational courses will be further expanded to reach all continents on a regular basis and support for training and research of our membership will be put in place.
We encourage all of you to work together with the Executive committee of the WFITN and myself to the benefit of improved patient care around the world.
Sincerely
Sirintara Pongpech
    President